Center for Primal Matters
A Speaker Series
Web, Speculative Design, Curation
The Center for Primal Matter promotes active explorations of material culture, and focuses on promoting kinship with chemical elements.
Various characters come to life in this serious yet playful interpretation. Whether or not you have an affinity for chemistry, you likely studied the subject in school. But what happens if the periodic table is re-examined? Can it become a magical tableau? The 118 elements sit quietly on the table—and they become simultaneously mysterious and charming with the realization that everything, including human bodies, is made of them.
Everything we touch, eat, and use comes from the 118 chemical elements found in the periodic table, yet we rarely stop to consider and appreciate their existence. The Center for Primal Matter creates an environment where these elements expand beyond their abstracted two-dimensional representation in an array. The project gives elements a voice; I asked each element to be a collaborator, to represent themselves in a three-dimensional way. As a curator, I invited them to the stage as guest speakers for a limited series of broadcasts—
Primal Matters
; I also organized a few panel discussions to give opportunities to hear their voices.
Visit us at:
centerforprimalmatter.org
On This Day (Feb 23rd)
How Much is Too Much?
Newspaper (Publication)
Front
Back
"Treasure" Chest
The Coffin Carries More Than Bodies
Motion
The Roman sarcophagus (or stone coffin) is an example of funerary art that dates back two thousand years. The word sarcophagus emerged from Greek roots that roughly translates to the compound phrase, "flesh eating." A number of examples of ancient Roman sarcophagi now reside in the permanent collection of the RISD Museum. I've been puzzled over the public's lack of physical access to these objects: how can people understand the actual value and embodied meaning of these stone vessels when the public is prevented from touching them—and even from standing too close to their display? The public's access is channeled instead through an interpretive label, or audio guide, provided by the museum. I sense people lose interest quickly and quickly leave the artwork behind. I suspect, however, that there may be others like me who are curious to know what's inside these closed containers. In Treasure Chest, I dissect a sarcophagus from its surface inward, seeking to expose its heart and share it with others. My goal is to offer a deeper, decidedly tactile experience that exposes the interiority of these ancient funerary objects and reframes public engagement with their form and purpose through a digital place.

Cactus Fiber Wonderland

Material Transformation

Form Making, Unity3D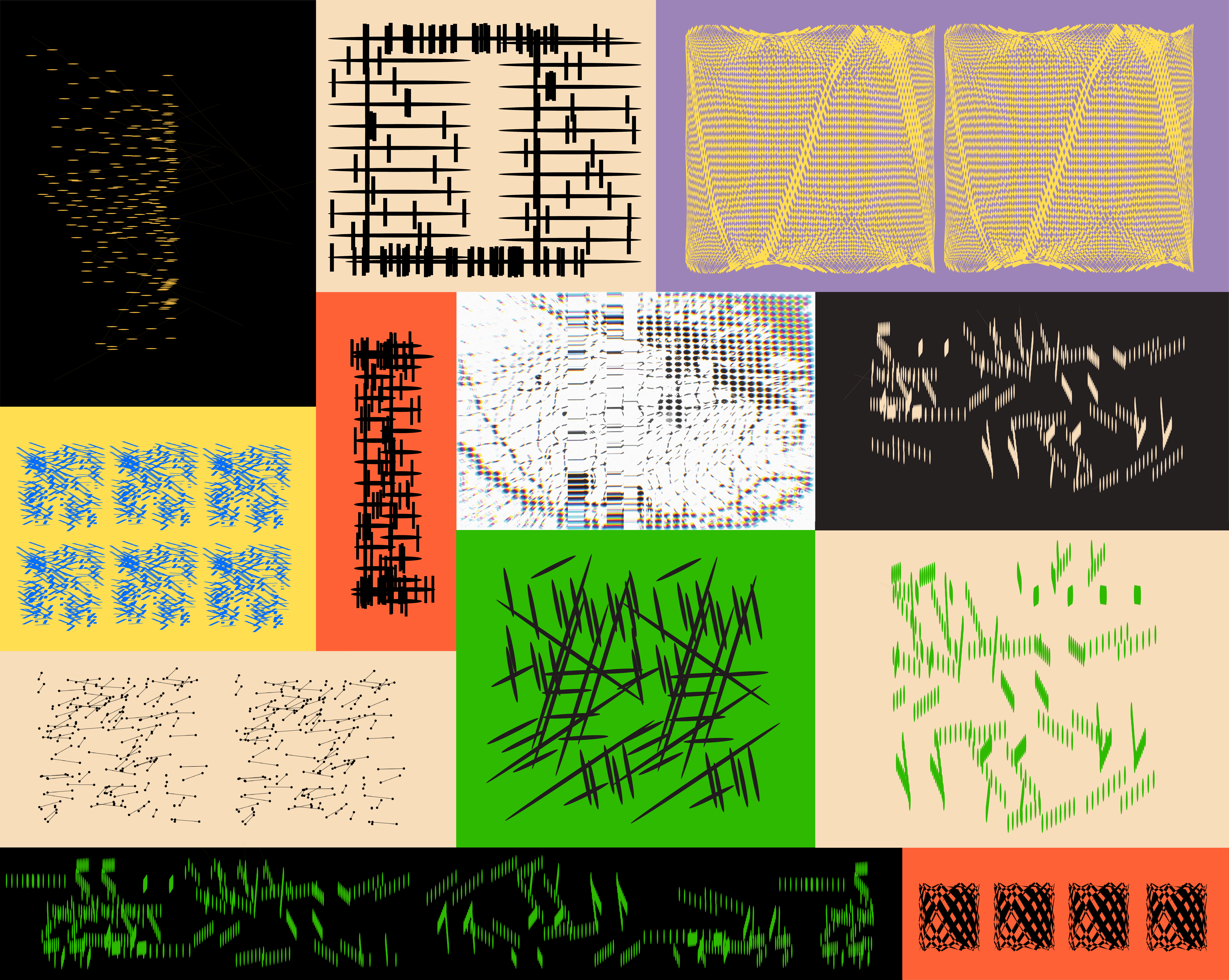 A collection of digital generated
cactus fiber forms by using NodeBox.
I've been trying to establish a closer relationship with nature. Last summer, I traveled to the Chihuahuan Desert with a group of artists and biologists for six days. My goal was to learn more about desert plant life and what is classified as waste.
On the third day, our instructor Hector walked up to me with a dead cactus, explaining that what he held in his hands was "waste." He then dissected the sampleit to show me a chunk of cactus fiber which he exhumed from the center of the cactus. At that moment, I suddenly realized that my understanding of plant life was almost exclusively based on the exterior; I hadn't taken the time to probe the interior. Later, I also came to understand that the fiber is edible, and can be used to make cloth.
Here, I apply my methodology to a chunk of cactus
fiber extracted from the center of a dead desert cactus.
I find myself drawn to materials and species that are generally ignored or are considered waste. I believe that all matter and all living things, however small, deserve to be respected and seen:
STAGE 01: Developing an intimate relationship with
this cactus fiber.
STAGE 02: Slowly turning its organic form into
digital generated forms. I've been exploring new ways for human beings to actually see non-sentient beings
anew by viewing their materiality through different
forms and angles.
STAGE 03: Build a wonderland that only for cactus
fiber and inviting humans to come in.
RISD Grad Show 2022
Brand Identity and Project Management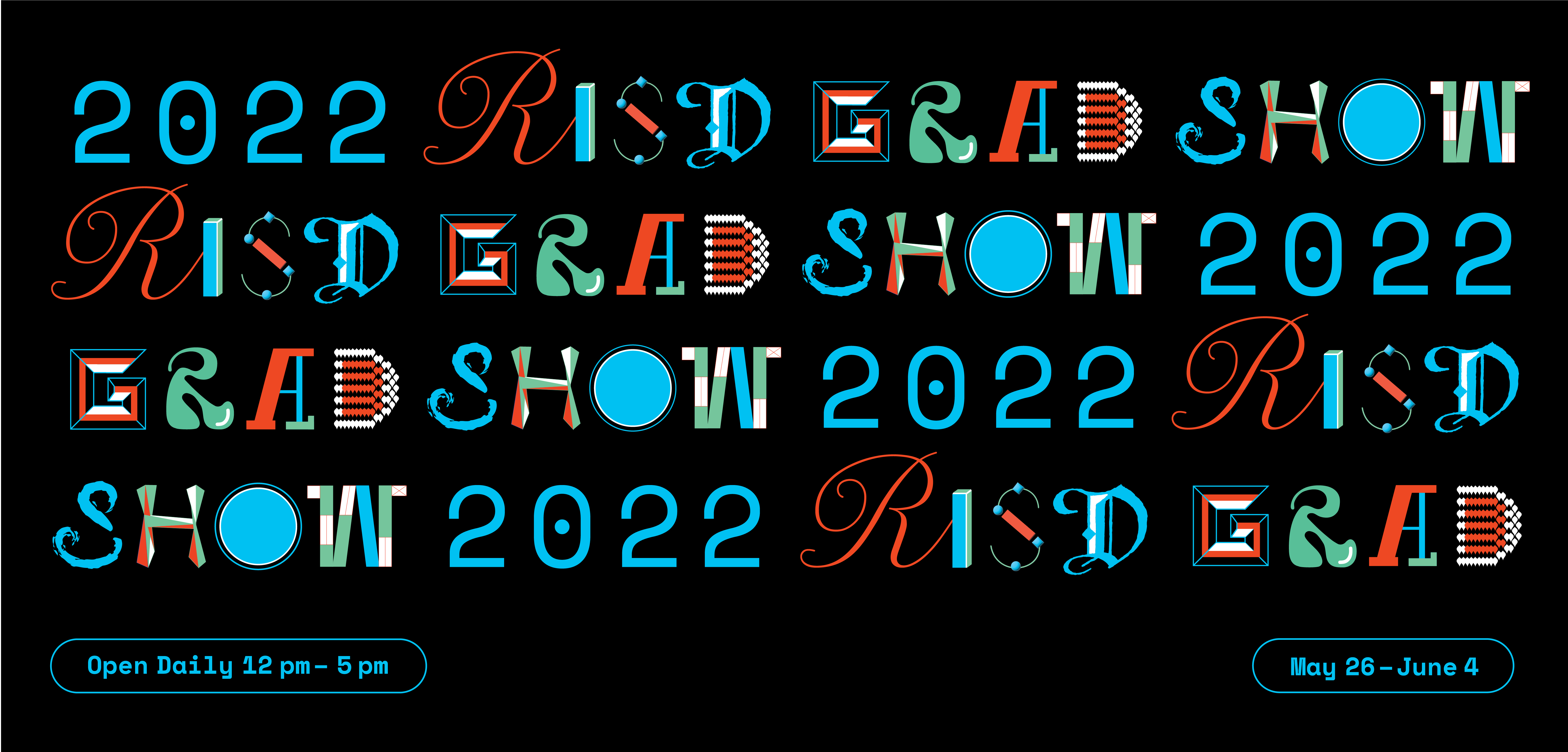 It was a blast that Zengqi and I had the opportunity to collaborate on the identity system for this year's Risd Grad Show. The identity means celebrating the multidisciplinary and inclusivity between each major while the students at risd constantly cross the boundary between mediums, materials, and textures to apply to their works.
The system applies to various platforms, including a website, various-sized posters and banners, print ads, digital ads, and social media.
View full Grad Thesis Students work digitally at:
www.risdgrad.show